The Spring 2021 Project Discovery Day is ON!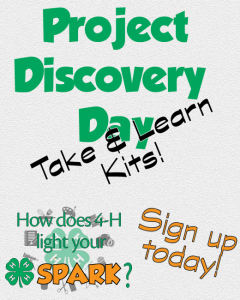 This year, we are not able to meet in person, so we have teamed up with Lincoln County 4-H to bring Project Discovery Day to you, wherever you are with "Take and Learn Kits"!  Choose one or choose them all!
All kits will have supplies and directions for you to successfully complete the activity. Some kits will have virtual opportunities via a video or a zoom workshop.
What is being offered?
Lighted Glass Blocks
Tie Dye Fun
Junk Journal – A fun way to remember your 4-H animal project
Duct Tape Wonders
Pop & Fizz! Let's explore the science of things that pop, bubble, and fizz!
To Infinity & Beyond: Explore space
Milk Fireworks
Gnome Sweet Gnome
Better Than State Fair Cream Puff: Learn to make cream puffs that are better than those at State Fair.
Horse Jewelry
Lucky Horse Shoes
Create an Easter Card
Strengthen You Calm: Mindfulness workshop for
Family Game Night w/Snacks
For complete details on what Workshops are being offered (age requirements, limit to number of participants, etc), download the PDF here.  Then head over to register at bit.ly/4HPDDReg Registration will be completed via a google form. Invoices and payment information will be sent once registration is complete.
This event is open to all youth, 5K-13(one-year post-high school). Participants do not have to belong to 4-H to enjoy a kit.