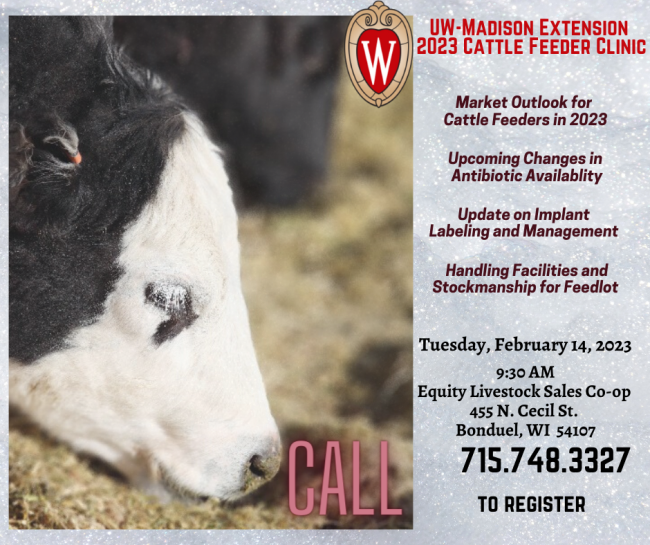 Farmland Rental Workshops Provided
(Cecil, Antigo) If you own or rent farm land in Wisconsin, how much do you understand about the process of renting that land? Do you need a contract? What should be in the contract? How much is the land really worth? These and other questions that surround the process of renting farm land are the focus of a pair of workshops being conducted in the area on January 17.
University of Wisconsin – Madison, Division of Extension is providing the opportunities for owners of farmland and agricultural producers to find out about land rent realities and options. These free in-person workshops are sponsored by the Extension offices of Langlade, Marinette, Oconto, and Shawano Counties. Registration is not required and all interested persons are encouraged to attend.
Both events take place on Tuesday, January 17th, with a storm date scheduled for Thursday, January 19th. The morning session will begin at 10 a.m. at the Antigo Town Hall, located at W9291 Hwy. 64, Antigo, 54409, just east of the City of Antigo. An afternoon workshop will begin at 2:30 p.m., in the Village of Cecil Community Hall, located at 111 E Hofman St., Cecil 54111.
The workshops were originally scheduled for mid-December, but were postponed due to the snow storm that affected the region that week. If in doubt about weather issues on Tuesday the 17th, contact either the Shawano or Langlade County Extension offices at 715-526-6136 or 715-627-6238 respectively.
Crops/Soils Educator Scott Reuss will lead the discussion of the details that you should consider when negotiating a farm rental contract, and why having a contract is important. He will also detail some of the advantages and disadvantages of different types of annual or multi-year leasing contracts. Current data regarding land rental rates in the multi-county area will be shared and discussed, as well.
Although a written contract is not a legal requirement, it does allow for protections for both parties and allows the producer involved to more readily access crop insurance and governmental programs. Many different things can go into a contract, but the most important center on timing, payment processes, restrictions, and opportunities for flexibility when unusual cropping conditions occur.
Contract templates of multiple types will be available as handouts, ranging from extremely simple to more complex arrangements. However, you do need to make sure they match legal needs and the true needs and desires of both parties. The discussion will focus on basic cropland rental situations, but can expand to building leases, grazing land, and other situations which attendees are interested in discussing.
If you have questions about these topics, contact Reuss in the Marinette County office at 715-732-7510 or via e-mail at scott.reuss@wisc.edu If you cannot attend a program, another good source of farmland leasing information is found at http://www.aglease101.org/
An EEO/AA employer, University of Wisconsin-Madison, Division of Extension, provides equal opportunities to programming and employment including Title IX, the Americans with Disabilities Act (ADA) and Section 504 of the Rehabilitation Act requirements. If you need any accommodations to assist in your participation of this program, please contact Scott or Nancy at 715-732-7510 at least 24 hours prior to the event. All requests will be kept confidential.
Cultivating Your Farm's Future: Planning Your Farm's Succession Starts Jan. 24, 2023
How will your farm operate in the future when the owner retires or is gone? Are you currently working with another generation who may be questioning their role in the future of the farm business or are you yourself questioning your current role?
To help Wisconsin farm families start their succession planning process, Wisconsin Extension has developed an interactive workshop series, Cultivating Your Farm's Future. This program will provide tools and resources for producers who want to begin the succession planning process. The program will explore the three step process of planning your business succession:
● Where are you now
● Where do you want to be
● How do you get there
You will be prepared to communicate, write, plan, vision and shape the legacy of the farm business as well as save time by having these crucial conversations before visiting with professionals.
Delivery of the program
The workshops will be delivered virtually, with a mix of both self-paced assignments and live, virtual group meetings via zoom. The self-paced assignments will include watching short videos, completing worksheets, and gathering necessary information. The live virtual group meetings will provide participants opportunities to discuss their homework and learn from not only the instructors but also from each other.
Who should attend?
This is for farm businesses and farm families interested in shaping the future ownership of the family farm – the family legacy. If you are the owner generation you may be wondering how to transfer a viable business to the next generation or determining how to divide farm assets. If you are the next generation you may have questions or ideas about your future role in the farm business. Multi-generations of the farm or family are encouraged to attend together.
Topics Covered
● Starting Your Succession Plan
● Determining What YOU Want
● Developing the Next Generation and Your Legacy
● Holding Family Meetings and Conversations
● Choosing and Working with Professionals
● Thinking of what is fair versus what is equal
Workshop series dates/times for live, virtual group Zoom sessions
Farms have the opportunity to choose the series that works best for their farm's and family's schedule .
Series One
Tuesdays, January 24, 31 and February 7, 2023, noon – 1:30 pm
Registration deadline: January 17, 2023
Series Two
Thursdays, February 16, 23, and March 2, 2023, 6:00 – 7:30 pm
Registration deadline: February 7, 2023
Registration Fee: $100/per farm which provides one workbook, folder of materials, course videos and three live zoom sessions; $15/additional workbook.
Multiple farm/family members are encouraged to attend.
For more information and to register https://farms.extension.wisc.edu/programs/cultivating-your-farms-future/
Even if you have attended other transition, estate, or succession planning classes, consider attending this program to get a START on YOUR succession plan.
For more information contact Kaitlyn Davis, La Crosse County Extension Agriculture Educator, kaitlyn.davis2@wisc.edu or Joy Kirkpatrick, UW-Madison Division of Extension Farm Succession Outreach Specialist, joy.kirkpatrick@wisc.edu