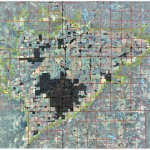 Below you will find the necessary maps to include with the application for a 15 year Agreement in the Antigo Flats Agricultural Enterprise Area.  You can print these maps in color or black and white. We can also print them at the county offices. There is a charge for color copies.
If you know which section numbers your parcels are in you can go directly to the directory website below and click on the directories and file numbered by Section number.
http://www.ncwrpc.org/county_ftp/langlade/AEA/
Sections are also listed on your property descriptions or in the Langlade Co. Plat book
The towns of Ackley, Peck, and Price do not have parcel lines on these maps. For any parcels in these areas, you will have to hand draw your parcel lines.